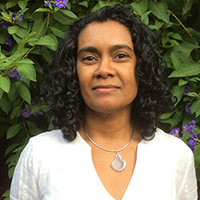 Edwina Van Der Westhuizen
A woman of colour, born in Cape Town, South Africa, In the time of Apartheid. In 1972, at the age of 3 Edwina and her family moved to Melbourne, Australia, for their own safety.
With a great interest or quest in how to be in the world interacting with others and still hold that state of being present in each moment. Her interest in human behaviour led to working with people to help them unlock their true potential.
About Edwina Van Der Westhuizen
Since 2003 she & her husband have run her own business, in coaching and training and that year was also introduced to Family Constellations. Since 2009 Edwina has run regular Constellations workshops, live and online, as well as seeing clients privately and also trains facilitators in Family Constellations.
Connecting deeply with the struggles world wide, especially with the 'black lives matter' movement and indigenous youth incarceration in Australia. Recently Edwina started conversations with Lawyers and Judges about how they are using Constellations in legal proceedings in Brazil. With the hope that starting a conversation might bring awareness for much needed change.
Contact Us
Our Team is happy to help with any questions you have, please fill out the contact form below and we will get back to you within 24 – 48 hours.